Quality Engineering is not only about quality, testing or engineering.
It's about creating a Quality at Speed ecosystem aligning the 5 domains of MAMOS, that also contributes to the creation and diffusion of the Quality Engineering culture in the organization.
Quality Engineering implementation relies on the 5 domains of MAMOS, the Quality Engineering Framework (QEF).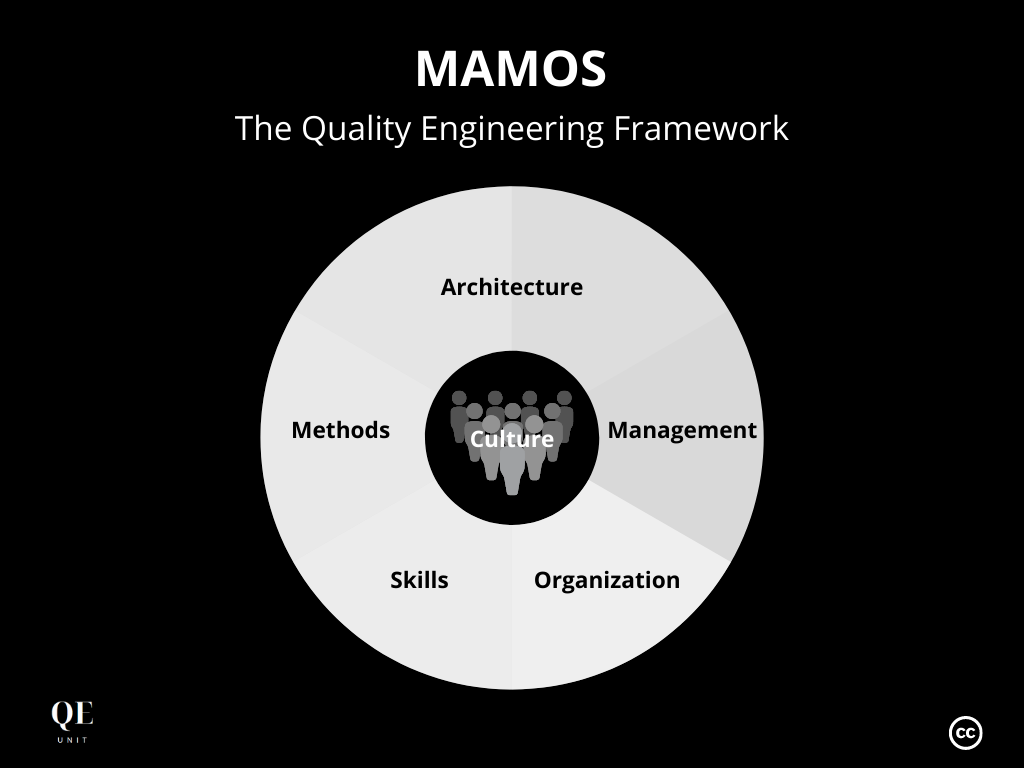 Methods select, compose and execute activities to deliver value through an incremental approach with speed and flexibility. Structured processes prevent and contain waste that minimize our effort and maximize repeatable outcomes.
Architecture organizes constraints and requirements of valuable digital experiences and collaboration between actors. The high-standard is achieved through the composition of technologies allowing to evolve independent pieces, iterate fast, and scale with minimal commitment and rework.
Management leads, federates the actors, and explains the "Why"s. The effective collaboration of expertises unlocks the most valuable digital experience delivered with speed and optimized effort, sustaining a self-learning ecosystem delivering valuable software.
Organization structures, prioritizes and stabilizes the most valuable investments and empowers the actors with resources. The rapid collaboration, flexibility of evolutions and scalability result from minimal and low-latency interactions incorporated in the organizational design.
Skills enable the creation of valuable digital experiences with rapid delivery, adaptation and collaboration across the software value-chain. The effective composition of expertises creates the capability to deliver the high-standard with maximum speed and adaptation.
All practices aim to constrain the entire software lifecycle to Quality at Speed across the axis of MAMOS, based on progressive methodologies that are either existing or crafted specifically for Quality Engineering: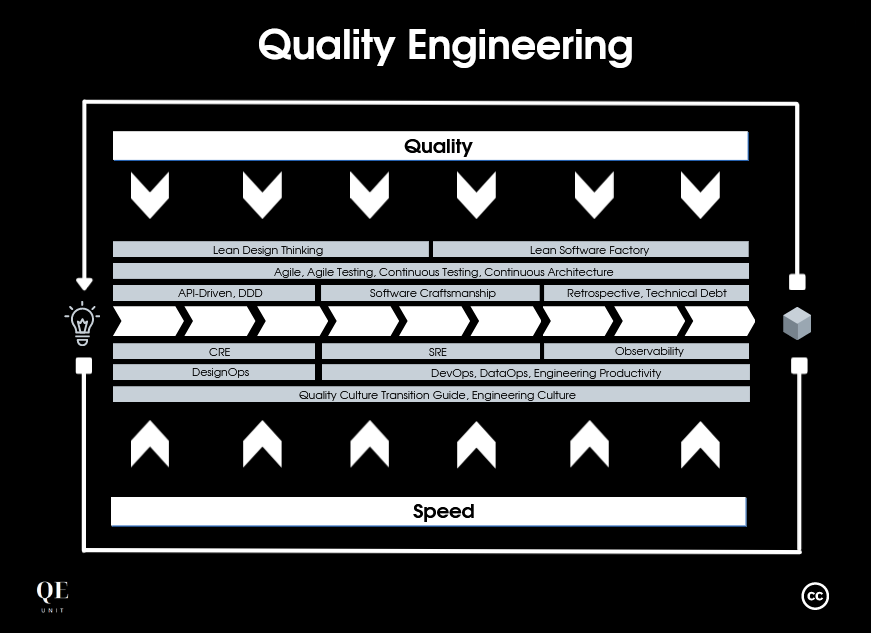 The Quality Engineering Framework, Manifesto & MAMOS are licensed under a Creative Common Attribution-NonCommercial-ShareAlike 4.0 International (CC BY-NC-SA 4.0)